Much of the new technology comes to market as the beginning of a larger project. For example, initially, ordinary printers transmitted images to paper in only one color, black, or grayscale. Today, color printers are an affordable and common tool. With 3d printing , it would be no different. Today, 3D color printing exists, although it is still inaccessible to most makers.
Today, 3D printers that create three-dimensional objects from a single filament and therefore have only one color are the most common on the market. Many makers choose, after printing, to paint the created pieces. Others, also inventive, choose different techniques. This article is about these techniques. Learn how you can get color 3D printing with simple home-made techniques.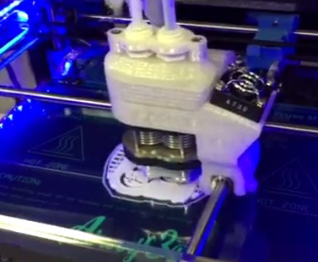 Color 3D Printing: Filament Swapping
This technique requires first of all experiments by the maker. Relatively simple, filament swapping can be done on virtually any 3D printer using the addition method. For this, the maker must follow some steps:
Pause the printer when you want to change colors
Raise the extruder nozzle on the Z-axis by 20mm and clear it
Position the new filament and melt it until it comes out of the nozzle
Return the nozzle to its original position and continue printing.
Color 3D printing done with this technique does not allow for much detail, but it is a good choice for those just starting out and not wanting to invest in expensive equipment.
Filament coloring: tie-dye effect
Another way to create a color 3D print is to …